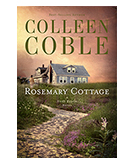 So happy that I pursued reading book two in the Hope Beach series even though book one was not among my favorite Coble books. She was back in full swing with this book, hitting it out of the park. (Or should I say off the beach?) Murder, drugs, kidnapping, secrets and lies, with a touch of romance; believable dialogue, relationships that ring true, and settings the reader could walk into, true Coble.
Why was it so hard to be herself, to be transparent? When she went to church, she put on a smile and never let anyone see her heartache. She was always "fine." It wasn't just here either. All around her she heard people asking, "How are you?" and others answering, "Fine." They all wore masks. Amy Lange had been raised to suppress bad feelings, to put on a smile and look on the sunny side. That describes the outlook in many in our churches today, some taught by parents, others through life's circumstances. Our masks come in a variety of shapes and sizes, but most have lips curved up at the edges; masks, like Amy's, hiding feelings, and secrets.
Coast Guard officer, Curtis Ireland, has secrets of his own. Secrets, when revealed, that might cost him the guardianship of his orphaned niece. Then there are also the secrets of those no longer among the living, secrets carried to the grave by Amy's brother and Curtis' sister, life changing and life ending secrets. Amy and Curtis must join forces to solve the mystery of their siblings' deaths, and to learn how to open their hearts.
I highly recommend this book to both lovers of mystery and romance. While it would make a great summer beach read, it would also be a great curl up by the fire read. Whenever and wherever you decide to read Rosemary Cottage, it's a guaranteed good time. While characters from book one in the series reappear in book two, it will work well as a stand- alone read. So, here's to happy reading!