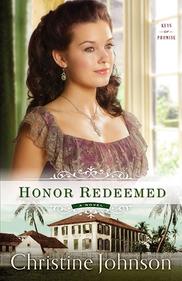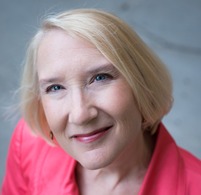 Reading this book during a major heat wave with heat indices in the triple digits, I was really able to imagine the heat and humidity of Key West, the swarms of pesky insects, and the tropical fevers that plagued residents during the mid-1800s. The discomfort was complicated by the fashions of the day; imagine soldiers in the tropics being required to wear wool! The reader can't help but be grateful for modern day air conditioning, advances in medicine, and cooler fabrics and fashions. Even if one were reading Honor Redeemed mid-winter, the author's integration of the setting into the storyline and the clarity with which she describes its significance would create a powerful mental image.
Honor Redeemed is book two in the Keys of Promise series. It was a delight to visit with Elizabeth O'Malley again as she befriends Prosperity Jones who has arrived in Key West with no money and one change of clothes, in search of her fiancé after the death of her mother left her alone and destitute. Circumstances, however, are not what she anticipated. Lieutenant David Latham is now married, and his wife is expecting a child. Only the Christian goodwill of people like the O'Malley's and a kindly, older doctor will keep Prosperity off of the streets. Things are not as they seem within the Latham household, and David is in need of some Christian goodwill himself. Themes of honor, forgiveness, unconditional love, faith, and the value of all humans regardless of race and social standing are intricately woven together in this emotionally charged novel.
I recommend Honor Redeemed to Christian historical fiction and Christian romance fans. I recommend it to those who enjoy reading books where good prevails over adversity, and hearts are changed through Christian love. Thank you to Revell Publishing and the Christian Blog Alliance for making Honor Redeemed available to me in exchange for my honest opinion. I have received no monetary compensation for my review.