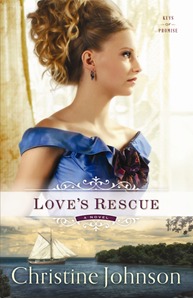 I selected Love's Rescue to review mainly due to its setting, Key West, Florida. Having spent a lot of time in south Florida, and being interested in the history of the area, I found this book very appealing. Well, I got way more than I bargained for. This book really drew out my metacognitive side, making me think about the way I was thinking as I read. (Okay, maybe I've been reading too much about comprehension strategy instruction, but it did make me appreciate this book even more!) This book has characters you will cheer for as well as those you will love to hate. At one point I wondered to myself how I was enjoying the book so much even though I was gritting my teeth with frustration at the turn of events, and while I hate to admit it, I did take a peek at the last few pages just to make sure all was going to end well. The author gives just the right amount of information for the reader to make inferences without feeling like they came too easy, and without throwing in some new information or character from left field, allowing the reader that pleasant sense of accomplishment as the pieces of the story begin to fit together. The sights and sounds of the 1800s Key West come alive with the author's wonderful word-smithing, backed by sound research.
Elizabeth Benjamin returns to Key West after a four year absence. Having fended off all potential suitors, she anxiously waits to see what type of reception she will get from Rourke O'Malley, captain of a wrecker ship. She just didn't anticipate her ship's colliding into a reef being the event that would bring her face to face with Captain O'Malley. Elizabeth also has to wonder about how her father will react to her returning unwed and unbetrothed. As Elizabeth struggles to meet her obligations while remaining true to herself, she uncovers family secrets that will impact the lives of everyone within her home, and many outside of the family as well. She is faced with hard decisions and the possibility of great sacrifice. While multi-themed, the central theme that winds itself throughout the story, and brings it to a climax, is forgiveness. The author deals with the struggle we all face at one time or another, the desire to forgive in the face of a stronger desire to withhold it.
Fans of historical romantic fiction will enjoy this book, even those who may not have selected a book within this genre that focuses on Christian themes. I thank Revell Publishers and Christian Fiction Blog Alliance for providing Love's Rescue for my honest review. I did not receive any monetary compensation for a favorable review and the opinions expressed here are strictly my own.
I do have to share a picture from a 2014 trip to Tarpon Springs that this book reminded me of, even though it doesn't fit the time frame in which this book is set. You'll have to read the book to discover my connection.